Privacy Policy
David S Sales Limited, trading as Wholesale Toy Warehiouse. is committed to complying with the General Data Protection Regulation and the Data Protection Act 2018 to continue protecting your privacy online.

You are not required to provide any personal information to use this website but if you wish to receive specific information or to place an order, we will need certain information from you.
David S Sales will be known as the Data Controller of the personal data you provide to us. This means David S Sales determines the purpose and way in which any personal data are or will be processed.
By sending your details to us that, you acknowledge that you have read this policy, you do so voluntarily and you agree that David S Sales Limited may use such information so that we may consider your request and/or for more general administrative and operational purposes.
Our policy explains how we will do this.
What information do we collect?
Appropriate contact and message information to help facilitate online enquiries.
Registration: to order through the website we ask you to register, we ask for your name, email address, geographical address and other contact and company information.
We may ask you for additional information, for example if you place an order or complete a survey.
On submission of an enquiry or registration, we may store the site you entered from to help us gauge the success of online marketing and partner relationships;
We may also use cookies. For more details, click here.
When do we share information?
We do not sell your personal information to others. Some of our services are hosted by third parties but we agree with those third parties that they will keep your information secure and not use it for other purposes.
If we believe that your use of the site is unlawful or damaging to others, we reserve the right to disclose the information we have obtained through the site about you to the extent that it is reasonably necessary in our opinion to prevent, remedy or take action in relation to such conduct.
Security
All personal and Credit card payments are handled through a secure, 128Bit encrypted site called Sage Pay. All payment details will be kept secure and will not be revealed to any third party, except as may be necessary in order for us to receive payment in accordance with your instructions. To protect your data further, your credit card information is always stored in encrypted form in a database that is away from our Web site database, so it isn't connected to the Internet. Credit card transactions are issued a digital certificate, ensuring that your data can only be read by our transaction system as long as your browser shows its secure mode symbol (such as a key or closed lock).
To make the most of the security on our site, we recommend using either Microsoft Internet Explorer version 5.0 or higher, Opera or FireFox, all of which enable SSL. We also recommend setting your browser's preferences to accept cookies and enable JavaScript.
How do we use your information?
We use the information to help us understand more about how our web site is used, to improve our site, and to send you information about us and our product range which we think may be of interest to you, either electronically or otherwise by prior consent.
Here is a list of the ways that we may use your personal information, and which of the reasons described above we rely on to do so. Where we list legitimate interests as a reason, we also describe below what we believe these legitimate interests are.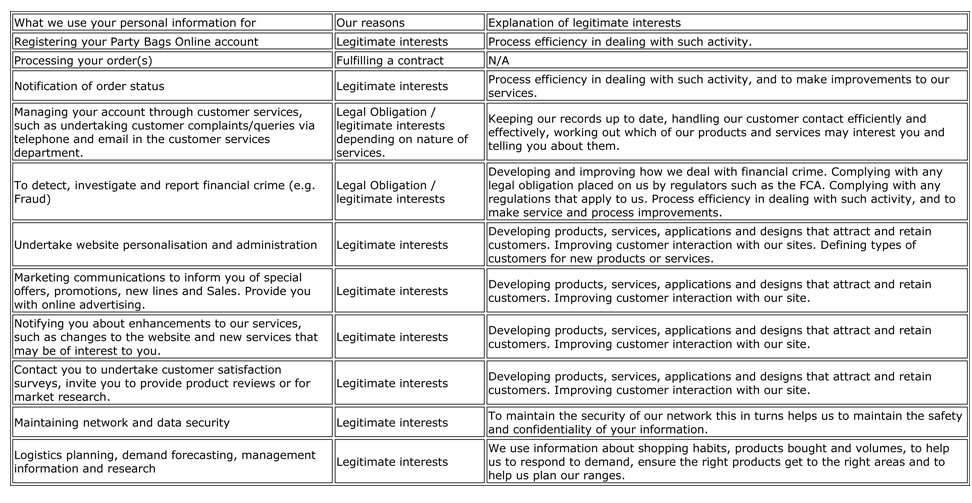 Revisions to this privacy policy
We are committed to ensuring the privacy of visitors to our website. This policy may therefore be revised by us from time to time so please check it regularly so that you are aware of any changes to its terms.